A well-written official letter can make a strong impression—far stronger than even the most elegantly phrased email (and it's much more professional than a fruit basket). Whether you're applying for a job, thanking a potential employer for an interview, or politely resigning from your old job (now that your beautifully crafted letters have earned you an exciting new opportunity), knowing how to write an official letter is a skill well worth mastering.

Formal Letters vs. Informal Letters
There are some crucial differences between informal letters (such as thank-you notes) and formal letters (such as cover letters). Maybe you're thinking, "But I already know how to write a good letter! My aunt Mabel loves my chatty thank-you notes." Well, it's good to know the difference between the two!
Informal letters
may be handwritten or typed,
use colloquial English, and
are loosely structured.
Formal letters, on the other hand,
are always typed,
strictly adhere to the rules of standard written English, and
have a formal structure.
When you are learning how to write a formal letter, the precise structure can look intimidating, but in fact, it's easily broken down into five separate components. Once you get a handle on the basics, you'll be well on your way to knowing how to write an official letter.

Basic Structure of an Official Letter
There are four elements in every official letter (and an optional fifth element that sadly does not come with Bruce Willis): the heading, the salutation, the body, and the signature—and, when relevant, enclosures. Here's an official letter sample to get you started on how to write a formal letter (or any other kind).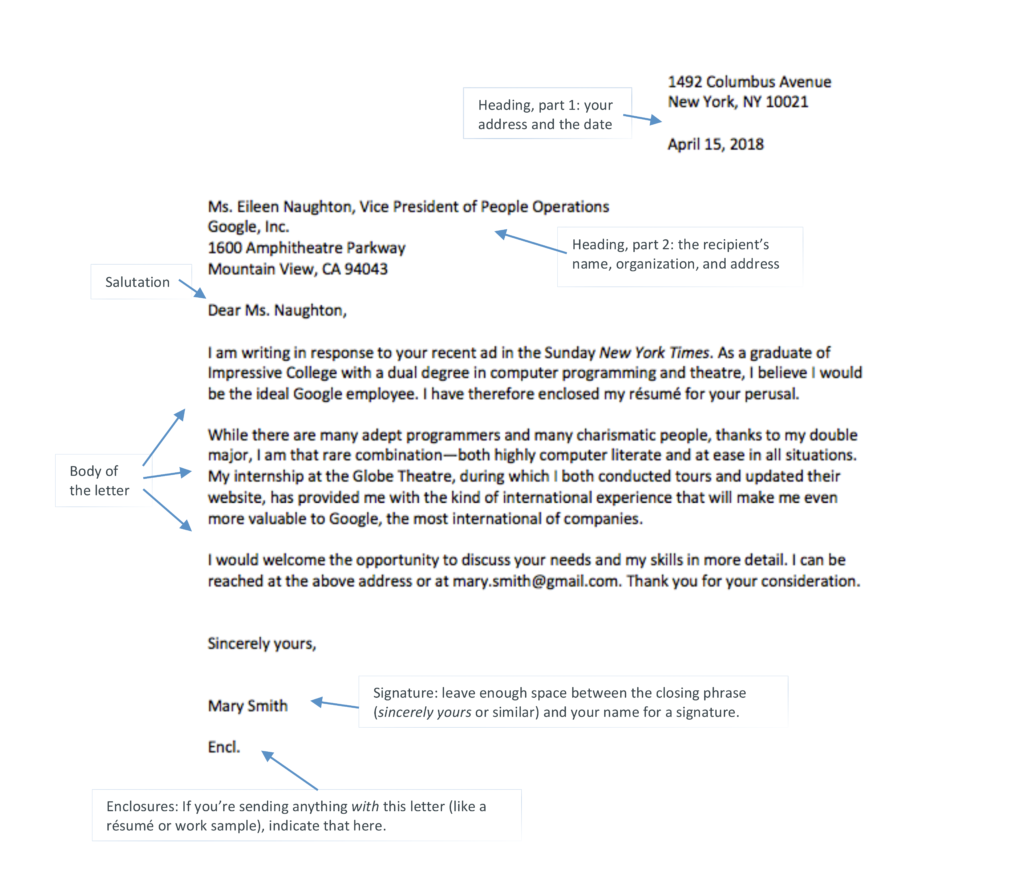 Heading
If you're wondering how to write a heading for an official letter, look no further! A heading for an official letter consists of two things: your address (plus the date) and your recipient's address.
Addresses
Your address. This should go in the upper right-hand corner of the page. Under your address, write the date. In the United States, use the Month Day, Year format (March 15, 2018). In Europe and elsewhere, it's fine to order the date with the day first (15 March 2018).

Recipient's address.

The second part of a heading for an official letter is the name and address of the person you're writing to. While you don't include your name above your address, here, you should write out your recipient's full name (including title), the name of the organization (company, college, publication, or similar), and then the address.
Salutation
A salutation is the greeting you use in your letter, whether formal or informal, and the most common one continues to be "Dear" plus the name or title of the person you're writing to.
Salutation Examples
Dear Firstname Lastname. If you're not sure of the person's gender, omit the title and use his or her complete name (e.g., Dear Pat Smiley).
Dear Mr./Ms./Dr. Lastname. If you know the social or professional title (e.g., Dr. or Professor), use it with the person's last name. Use Ms. in preference to Mrs. unless you're certain your recipient prefers Mrs. It's best to avoid using Miss, which can be considered condescending.
Dear Sir or Madam. This is the perfect salutation when you don't know your recipient's name.
Body
Keep the body of an official letter as brief as possible.

First body paragraph
Open by clearly stating why you're writing this letter.
I am writing to complain about…
I am responding to your job advertisement in…
I am applying for the position of…
If this letter is part of a previously established correspondence, you should also note that here.
In response to your letter of…
At our recent meeting, you requested the first ten pages of my manuscript…
Second body paragraph
Here, you should include some supporting details about your work or educational experience, what makes you suited to a certain job, your disappointment with the company's product, or other relevant information. This paragraph expands on the first paragraph.

Closing body paragraph
This is where you can reiterate the main point of your letter, suggest a next step, thank the recipient for her time—or all three!
Thank you for taking the time to consider my application.
 I look forward to meeting you next week.
I would be happy to provide references or further samples of my work.
Signature
There are several appropriate closing signature phrases.
Letter Signature Examples
Sincerely yours is the most common closing. The short form, Sincerely, is also always a safe bet.
Respectfully yours or Yours truly or similar variations work as well.
Regards, Thank You, and With Appreciation could also be appropriate.
However, there are two pitfalls to avoid:
Don't make the body overly formal. Be careful not to let the formal tone of the signature phrase bleed into your writing. You shouldn't sound as if you're writing with a quill pen!
But keep the signature respectful. Don't let your modern, hipster ways tempt you into using a more casual signature phrase. Being a bit formal is welcome here. Hang loose, dude is not.
Enclosures
Official letters are often cover letters—that is, they are sent to accompany another document, such as a résumé. If you are including anything in the envelope other than the letter itself, it's a good idea to write Enclosure or simply Encl. after your name. This lets your recipient know to look for another page or two and reduces the risk that your letter will get separated from whatever else you sent.

A Quick Look at Spacing for Official Letters
Keeping things nicely spaced will improve the overall appearance of your letter. Let's take a second look at our official letter sample!
A Step-by-Step Guide on How to Write an Official Letter
Know your format. Before you start writing, ensure your margins are set to one inch all around and that you're using a plain, readable font like twelve-point Times New Roman (your best bet), Arial, or Calibri.
Include your address and date. Write your address and the date in the upper right-hand corner.
Include the recipient's address. Flush to the left margin, write the name, organization, and address of the person to whom you're writing. If you're not already in contact with your recipient, find out precisely who would be the best person to contact. Carefully note the correct spelling of that person's name.
Write the salutation. Remember, you have both formal and informal options in terms of greeting.
Write the letter. Write your first paragraph by answering the question, "Why am I writing this letter on this day to this person?" Write your second paragraph by answering the question, "What new information do I want the reader to know?" Write your closing paragraph by answering the question, "What do I want to happen next?"
Include a signature. Type the closing signature phrase, hit Enter three or four times, and then type your name.
Remember your enclosures. If you're enclosing anything (like a résumé), leave a blank line under your name, and then type "Encl."
Follow the four Ps: Proofread your letter carefully! Print your letter! Pop it into an envelope! Post it quickly!
Official Letter Dos and Don'ts
DO make every effort to find out the name of the person you're writing to. That personal touch can make all the difference. Also, ensure the name is spelled correctly!
DON'T use the salutation "To whom it may concern." It's outdated and impersonal.
DO follow the rules of standard written English, and carefully proofread your writing. Consider using an editor to polish your letter and ensure that it's free from error.
DON'T use overly familiar or colloquial language. Avoid contractions, and use complete sentences.
DO sound like yourself—just a very professional version of yourself.
DON'T use a thesaurus to try and sound more "intellectual."
DO keep your letter short and to the point.
DON'T change the font size to adjust the appearance of your letter.
DO use letter-size paper and a business-size envelope.
DON'T use colored paper or stationery with any added embellishment or design—except your letterhead, if you have such a thing.
DO mail your letter as soon as possible after you write it. The date you wrote in the heading should ideally match the postmark.

Types of Official Letters
There are many types of official letters, and each one serves a specific purpose. Here are just a few examples:
Inquiry letters elicit information. These are perfect when you're on the job hunt, need legal advice, or are soliciting a donation.
Follow-up letters come after an initial communication; a great example is a thank-you after an interview.
Complaint letters can be useful, but remember to use a professional, polite tone.
Recommendation letters are also known as letters of reference or simply references and often go hand in hand with…
College application letters submitted to admissions committees.
Letters of resignation generally go to the immediate manager and will often detail the reason for leaving.
Other types of official letters can be used in a variety of situations, such as submitting a grant application, requesting a raise, or responding to an inquiry.
While email is quick and efficient, it will never make as strong an impression as will a nicely written, professionally formatted, nonvirtual, hold-it-in-your-hands letter, which makes official letters ideal for a few key situations.
Knowing exactly how to write an official letter puts you ahead of the game and makes you stand out from the crowd—which is exactly what you need in today's world. So give it a go! For the business side of things, have a look at this post. Also, the Internet has lots of resources (like this dictionary, this style guide, or these blog posts) to help you perfect your spelling and grammar.